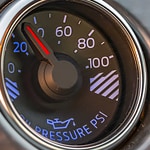 The Ford Mustang is one of those luxury sports cars that makes you drool whenever you see it. With its crafty, carved-out exterior, beautifully textured interior, and overall near perfection design, who can resist its allure? We at Midway Ford Truck Center located in Kansas City have the new 2021 Ford Mustangs, including the Mach 1 with its new handling package available at our dealership.
Ford Mustang Mach 1 Handling Features

The Mustang is a power-packed knockout with an allowable 5.0-liter V-8 engine that generates 480 horsepower and 420 lb-ft of torque.
Read More