Midway USA Collision Center
Midway USA, Inc.
3420 Gardner Avenue
Kansas City, MO 64120
(816)241-0600 - Local
(800)786-6439 - Toll Free
(816)231-7414 - Fax
Hours of Operation
Monday - Friday 7:00am - 5:00 pm
info@midwaybodyshop.com
At Midway's state of the art collision center we have 43 fully equipped repair bays that cover over 40,000 total square feet of work space. Our technicians boast over 500 years of total collision repair work experience! Our equipment includes two Chief EZ Liners, one 60 foot Beeline Frame Machine, six state-of-the-art paint booths, and fully computerized alignment equipment. We work on all makes and models of cars, and light, medium and heavy duty trucks. We welcome all insurance company estimates.
Not only is Midway Collision part of the Ford Certified Collision Repair Network, but we are also one of the first 10 repair centers in the nation to be certified by Ford Motor Company to perform body work and repairs on the All New Aluminum Bodied F-Series Trucks. Our technicians are Ford Certified and we have the tools and experience to do the job correctly . As a matter of fact, we've been working with aluminum for several years performing repairs and fabricating specialty parts for Emergency Equipment,  & Fire Apparatus.
Our Body Shop Offers Full Service Including Body, Frame and Paint Work.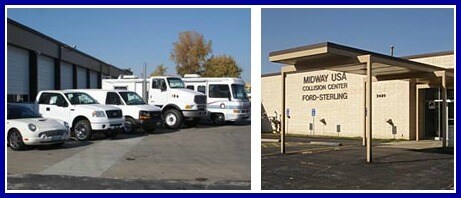 Missouri Heavy Duty & Light Duty Truck Auto Body Repair - Ford Collision Center in Kansas City
At Midway Ford Truck Center, we are proud to perform collision repairs in Kansas City for our valued customers at our Midway USA Collision Center. Not only do we have state of the art technology to assist in our process, but our technicians have centuries worth of heavy duty truck service and light duty auto repair experience in Kansas City. And since we are part of the Ford Certified Collision Repair Network, you know we'll get the job done right the first time. No matter if you're driving the family car,  a Flatbed with a Gooseneck, Crane Body, Forestry Body, or Box Truck Midway can handle it. Give one of our friendly collision center technicians a call by dialing (800) 786-6439 to set up an appointment today. Before you head over to Midway Ford Truck Center, make sure you check out our driving directions from anywhere in Missouri. We look forward to hearing from you!
Midway USA Collision Center
Midway USA, Inc.
3420 Gardner Avenue
Kansas City, MO 64120
(816)241-0600 - Local
(800)786-6439 - Toll Free
(816)231-7414 - Fax
Hours of Operation
Monday - Friday 7:00am - 5:00 pm
info@midwaybodyshop.com