We have been satisfying our customers for
over 50 years
with our
quality products and services.
21 Time President's Award Winner
18 years Running!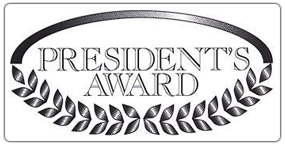 Midway Ford is the proud recipient of Ford Motor Company's highest form of dealer recognition, the President's Award.
This Award is presented to only two percent of all Ford dealers and is based on customer satisfaction. It is a product of Midway's commitment to both its customers and employees. Midway has won this Award fifteen years in a row and eighteen years in total! Midway is also very proud of its accomplishment as a former Triple Crown Winner - received by only a few of the 4000 Ford Dealers in the United States. To be a Triple Crown Winner, a dealership must have been selected to the "Top 100" dealer group for the highest vehicle sales; it must be in the Top 100 in parts sales, and must have been recognized as a President's Award winner.
Here's a handful of the awards we've won over the years
Ford 100 Club 
#1 Dealership in the nation for 
Medium Duty Truck Sales 
Multiple Year Winner of The Ford 100 Club
#1 Dealer in medium duty truck sales with an all-time record of 
Business 

Preferred

 Top 25 Dealer Award

 
#1 in the nation in total commercial contracts with Ford Credit
Multiple time winner of the Ford Partners in Quality Award 
This is Ford Credit's most prestigious award and pays tribute to dealers who have achieved the highest level of 
customer satisfaction and loyalty to Ford.
One Ford Elite
One Ford Elite is one of Ford's top honors 
$1,000,000 Club
Parts Department Powerstroke Diesel Sales
Midway Ford Parts Department is a multiple time winner for Power Stroke Diesel Sales. $1,000,000 Club for Power Stroke diesel Sales
Volume Award 
Medium Duty 
F650/F750 truck Parts