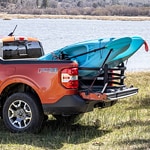 If you are in the market for a new car, you may be considering the Ford Maverick. This vehicle is packed with /features and technology that will make your driving experience better than ever.
-The first feature we will discuss is the FordPass Connect. This is a system that allows you to connect your smartphone to your car. This way, you can access all of your music, navigation, and other apps while on the go.

-Another great feature of the Ford Maverick is the SYNC infotainment system. This system gives you access to all of your car's controls via a touch screen interface.

-Finally, we will discuss the Ford MyKey system. This system allows you to set limits on certain features of your car. For example, you can limit the top speed or the volume of the stereo. This is a great feature for parents who want to keep their kids safe while driving.
These are just a few of the amazing technology features that the Ford Maverick has to offer. If you are looking for a car with all the latest and greatest features, then the Maverick is definitely the right choice for you.