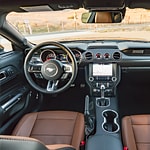 Built to smoke the competition, the Ford Mustang is a legendary street racer and everyday star of powerful, sporty rides. Seven different appearance packages make it fun and easy to customize your Ford Mustang for your daily needs and overall tastes. Outstanding performance features keep each ride efficient and exciting. Our Midway Ford Truck Center team shines a spotlight on standout performance features.
Manual or Automatic Transmission
Choose between six-speed manual or 10-speed automatic transmission. The latter utilizes an on-board computer to elicit optimal gear-shifting for zero-lag acceleration and deceleration. Meanwhile, the six-speed manual pairs with steering wheel-mounted paddle shifters. A race car-inspired innovation, paddle shifters put the ease and precise control of shifting gears directly at your fingertips.
From Whisper to Roar
Do you love the sound of revving your muscle car's engine for the whole world to hear? The Ford Mustang boasts the capability of rip-roaring or whisper-quiet engine startup. A class-exclusive active valve performance exhaust has Sport, Normal, Track and Quiet Start settings that control exhaust output volume.