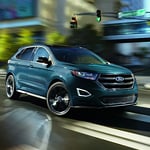 The Edge remains a hit among owners who prefer a midsize SUV that is easier to handle and maneuver while still providing plenty of passenger and cargo space. The vehicles come with an impressive selection of technological features and the option of two different powertrains.
The majority of Ford Edge SUVs at our Midway Ford Truck Center facility have a turbocharged 2.0-liter engine that produces 250 hp and 280 lb-ft of torque. Automatic eight-speed transmissions and FWD are standard on all vehicles. However, the ST trim level comes with a more powerful twin-turbocharged 2.7-liter six-cylinder engine that generates 335 hp and 380 lb-ft of torque. The vehicles comes with AWD and an automatic seven-speed transmission.
The SUV also easily goes from daily commutes to weekend adventures. AWD models having Class II towing packages haul up to 3,500 pounds, which enables users to pull small trailers.