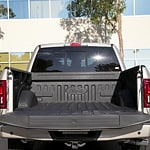 Towing and Hauling

The new Ford F-150 is offered with features that make towing much more simple. The optional Smart Trailer Tow Connector system notifies drivers of their trailers' positions and any objects that are impeding the trailer. An onboard scale system is also available for the F-150, allowing drivers to easily know the weights of their trailers through the infotainment system of their trucks.

Off-Road Capabilities

The new Ford F-150 Raptor is one of the most-powerful and capable trucks in the history of Ford F-150 models. Capable of conquering roads that are covered dirt, sand, gravel, and snow, the new F-150 Raptor provides a smooth cabin ride to its occupants. The combination of Fox Shocks with Live Valve Technology allows the suspension system of the Raptor to easily adapt to varying road conditions. Off-road tires and off-road lighting are both available for the new Ford F-150 Raptor.