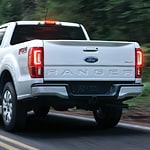 The Ford Ranger is a mid-size truck that offers toughness and adventure. Whether you are riding in the concrete jungle of the city, or you are venturing off the beaten path, the Ford Ranger offers adventure every step of the way.
The Ford Ranger offers capability that is second to none. Drivers may choose from the FX4 package for improved off-road capability or the Tremor Off-Road package. Both of these off-road packages offer the Terrain Management System, which allows drivers to choose the type of terrain they are on for the ultimate in performance. The system will then calibrate the engine and transmission for the best response to diverse terrain. You'll enjoy the most appropriate traction, performance and driving quality. In addition, the Tremor Package offers front and rear tow hooks, running boards and upfitter switches.
You can also add Ford Performance Parts to further add to the capability of the Ranger.