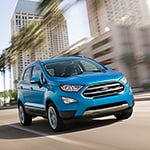 The Ford EcoSport is a subcompact SUV available at Midway Ford Truck Center. If you are interested in owning a subcompact SUV for traveling or commuting extensively, the Eco sport is a wonderful option. In addition, there are great amenities that come with the EcoSport, such as plenty of charging capabilities and Premium seating.
If you notice that you get in the car sometimes and your phone isn't charged, or you don't have a cord to charge it, the Ford EcoSport has the solution with plenty of ways to charge your devices. Not only will you have two USB fast chargers in the SUV, but you will also have two 12-volt outlets as well as a 110-volt outlet.
The seats in the Ford EcoSport are premium with the available stain-resistant ActiveX seating surfaces. The driver's seat also has six-way power-adjustable controls.