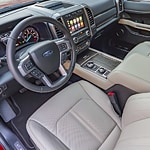 We've blabbed plenty about the performance features of the Ford Expedition. Now, let's focus on something a little more fun for the whole family: the large family SUV's interior features!
The Expedition seats eight without a hitch on its leather seats, and you can rest assured that everyone will have plenty of leg room. The well-ventilated cabin is also beautifully lit with the vehicle's large windows and impressive sunroof. When you need extra space, no worries -- both the second and third rows are easy to put down with power-folding technology.
Everyone can enjoy a beverage with the vehicle's 15 beverage holders, and passengers can sip in luxury while enjoying the dual video screens on the driver and front passenger's headrests. These screens can be hooked up to your cable provider, allowing you to catch sports, the weather, or your children's favorite shows on a long drive.