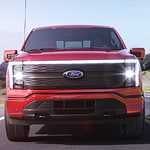 The optional OTA updates on Ford F-150 trucks allow drivers to upgrade their car over the air while they are driving, as one of the most recent technological improvements. FordPass Connect, another cutting-edge technology, lets drivers remotely lock and unlock their vehicle from a smartphone or other mobile device. This convenient function allows drivers to check on the state of their vehicle and set up remote start timings.
Ford is always upgrading its models with new technology to make driving more convenient and safe. As an added safety measure, it has a Trailer Theft Alert system, which notifies the driver if there is an attempt to break into the trailer. The trailer is safe and secure so that you can enjoy your journey.
A trailer light Check is also included as standard equipment on the Ford F-150. You can use this function to make sure your trailer lights are working properly before starting your trip. Confidence will be restored because you can see what is at the back of the trailer.