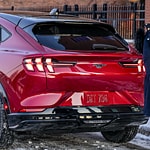 The interior of the Mustang Mach-E is designed to be as modern and high-tech as possible. It uses an all-new dashboard with a large touchscreen display that can be used to control the car's infotainment system, as well as other aspects of the vehicle's operation.
This compact crossover SUV also comes with a new steering wheel that has several buttons on it to help you keep your hands on the wheel while you're driving, rather than reaching over to the center console or down to your legs for things like changing radio stations or adjusting climate control settings.
There are also several different voice commands available for the Ford Mustang Mach-E to help you get around while driving. You can say things like "Hey, Siri" or "OK Google" when using iOS devices or Android devices respectively to access these commands without taking your eyes off the road or having to pick up your phone from where it is resting in your lap.