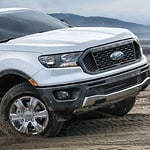 At Midway Ford Truck Center, our staff members are excited about vehicles that come with options. The Ford Ranger is one of their top picks — this new midsize pickup truck comes with a variety of choices, so you can find the perfect look and feel.
One of the first things you'll choose when you customize a Ranger is the wheel style. With eight options ranging from 16-inch to 18-inch, you'll have plenty of options. From the standard 16-inch silver steel to the rugged 18-inch black painted, there's a spoke style and color for every preference.
Are you planning to use the Ranger for off-roading or outdoor adventure? Get ready with a huge variety of accessories. With a selection that includes everything from off-road lights to carriers that hold your boats and bikes, finding the right upfits is a breeze. Find out more when you test-drive the Ranger at our Kansas City showroom.